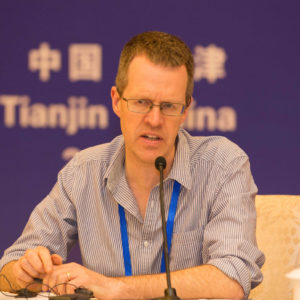 Graham Smith
Graham is the Principal Investigator on the Scholio Project. He is Professor of Politics and Director of Centre for the Study of Democracy, University of Westminster, UK. Graham is a specialist in democratic theory and practice and environmental politics. His publications include the influential monograph Democratic Innovations: Designing Institutions for Citizen Participation (2009).
Graham is an investigator on a number of international research projects on democratic engagement, including Participedia, a global knowledge platform on participatory governance, Cherry-picking, analyzing the fate of proposals from participatory processes, and Democracy Matters, that organised pilot constitutional citizen assemblies in the UK. He is Chair of the Foundation for Democracy and Sustainable Development.
---
Michael is Co-Investigator on the Scholio Project. He is an Associate Professor in the Department of Political Science at the University of Connecticut (UConn) and a Core Faulty member of the Humility and Conviction in Public Life project at the UConn Humanities Institute. He also currently serves as the Co-President for the Association for Political Theory. Michael received his PhD in political science from Arizona State University and specializes in deliberative democracy, democratic theory, political psychology and emotions in politics.
He published his book Empathy and Democracy: Feeling, Thinking and Deliberation with Penn State University Press in 2010, and his research has appeared in Political Behavior, Political Research Quarterly, Public Opinion Quarterly, and in Deliberative Mini-Publics: Practices, Promises, Pitfalls (2013, ECPR Press). He is a research collaborator on the Citizens Initiative Review Research Project housed at Penn State University.
---
Mark is the Principal Research Scientist at the Massachusetts Institute of Technology, where he has worked for nearly 20 years. His background includes a PhD in Artificial Intelligence from the University of Illinois, as well as research and teaching positions at Hitachi, Boeing, Pennsylvania State University, the University of Zurich and the Nagoya Institute of Technology. He does research at the intersection of artificial intelligence and social computing, studying how computers can enable better knowledge sharing and decision making among groups of humans.
Mark has 180 publications (with 8000 citations, an h-index of 42, and over 11,000 downloads) and have won US$7 million dollars in research funding. His approach is multi-disciplinary, and he is deeply committed to having a direct impact on solving real-world problems, especially in the sustainability and deliberative democracy realms. He serves on the editorial boards and program committees for many of the most respected journals and conferences on artificial and collective intelligence. Mark also serves on the advisory boards for several social computing startups, and is pursuing the commercialization of his own research. Mark is the lead technological developer for the project.
---
Paolo is Co-Investigator on the Scholio project. He has a dual PhD in economics and political science and has been a Fellow in leading research centres dedicated to public participation at Harvard, the University of British Columbia, and the University of Southampton. Paolo is currently based at the Centre for Social Studies in Portugal working with a consortium of universities and firms on the development and evaluation of Empatia: a digital platform for public participation.
Paolo's research explores the diffusion and impact of governance and social innovations aimed at deepening democracy in public administration, parties and organisations. Paolo's recent work has been published in News, Media and Society, Political Science and Politics, the Journal of Information Technology and Politics, and Foreign Affairs. More information is available on Paolo's website.
---
Hans is PhD candidate and visiting lecturer at the Centre for the Study of Democracy at the University of Westminster in London and an associate of the Centre for Deliberative Democracy and Global Governance at the University of Canberra. His work addresses questions of inclusion and equality in new participatory spaces (democratic innovations) created both by social movements and state actors. It investigates the role of social identities and the effects of anonymity in online and offline spaces. His research interests include empirical participation and democracy studies and theoretical debates on participatory, deliberative, and radical democracy. His current PhD project is supervised by Prof. Graham Smith. Hans completed his Master degree in political science at the University of Vienna, Austria and studied in New York (City University New York) and Krasnodar, Russia (Kuban State University). Since 2013 he works as online tutor at the University of Hagen, Germany.
---
Alberto is an Italian film director. Since 2002 he has been developing awarded social and art documentary film projects in Italy, Spain, Bosnia Herzegovina, Morocco, Algeria, Tunisia,Somalia, Mexico. He has been selected at ESoDoc – European Social Documentary (2005) and Berlinale Talent Campus (2008). His works have been broadcasted in Italy and Spain and awarded by several international film festivals: Biografilm Festival, Memorimage,  SalinaDocFest, DocumentaMadrid, Visioni Italiane, Movies that Matter, Paris Human Right Film Festival, Buenos Aires Human Right Film Festival. Since 2005 he lives and works in Barcelona. Alberto will help the project by supporting multimedia comunication and engagement. For more information on his other project see the website.
---
Perry is an innovator of participatory methods that anyone can use. He has more than 20 years of experience in designing and testing new participatory methods. He led the development of *Democs*, a conversation game enabling small groups to explore complex policy issues like climate change or nanotechnology, to shape and share opinions, and to provide feedback for policymakers. More recently, he created *Open Up!*, an 'argument map' that  provides a structured way of setting out arguments on an issue. He is currently evolving *Policy Slam!*, a workshop format incorporating the consensus voting method. He has also designed and facilitated numerous participatory projects including: future search conferences; *Imagine*, a workshop-based visioning process using appreciative story-telling; and the *People's Café* project, discussion cafes for a range of people, including those with learning difficulties. Perry has MAs in economics from Cambridge and from Birkbeck. He is on the board of Involve. Perry will be in charge of user testing. Between September and December 2017 Scholio will test variations of the technological platform that will be used for the trial with citizens, students and professionals.

---
Rachel graduated from the University of Wolverhampton School of Art and Design with a degree in Graphic Communication in 1998, and gained a master's degree in Hypermedia Studies from the University of Westminster in 1999. Collinson is listed as a partner in the Transformational Index, whose publicly stated mission is that it exists to help organisations measure the environmental and social impact of business. She also worked for the University of Westminster as a lecturer at the Hypermedia Research Centre, and software company Engaging Networks as their Director of Knowledge Sharing and Innovation. She is a council member of Unlock Democracy and a regular trainer on Campaign Bootcamp. Rachel has 15 years' experience of planning, designing, building and managing successful digital projects. During that time she has advised or worked for the Burma Campaign, Greenpeace International, the National Consumer Council, Oxfam, Save the Children, Tearfund, Christian Aid, the Museum of London, the Science Museum and many others. Rachel will contribute to the project by designing the engagement campaign to recruit participants in the experiment. The best way to reach Rachel is via her twitter account.
---
Cristina is a lover of FOSS and GNU philosophy, and for her work writes in JavaScript and designs custom web interfaces. She graduated in Science of  Communication in 2007, has been a freelance coder since 2013 and collaborates with: Radio Città Fujiko 103.1 FM Bologna; LilithStudio web agency; Redesign Comunicazione Soc. Coop.; Edizioni la Linea; Loescher Editore. Cristina is helping the project with her interaction design expertise.